Saturday I spent the morning finishing cleaning the house. Around 6pm my aunt & uncle came over along with my fil and my cousin and his gf. We had a few drinks listened to some music and just hung out. Hubby surprised me with a gorgeous cake! Here's a pic: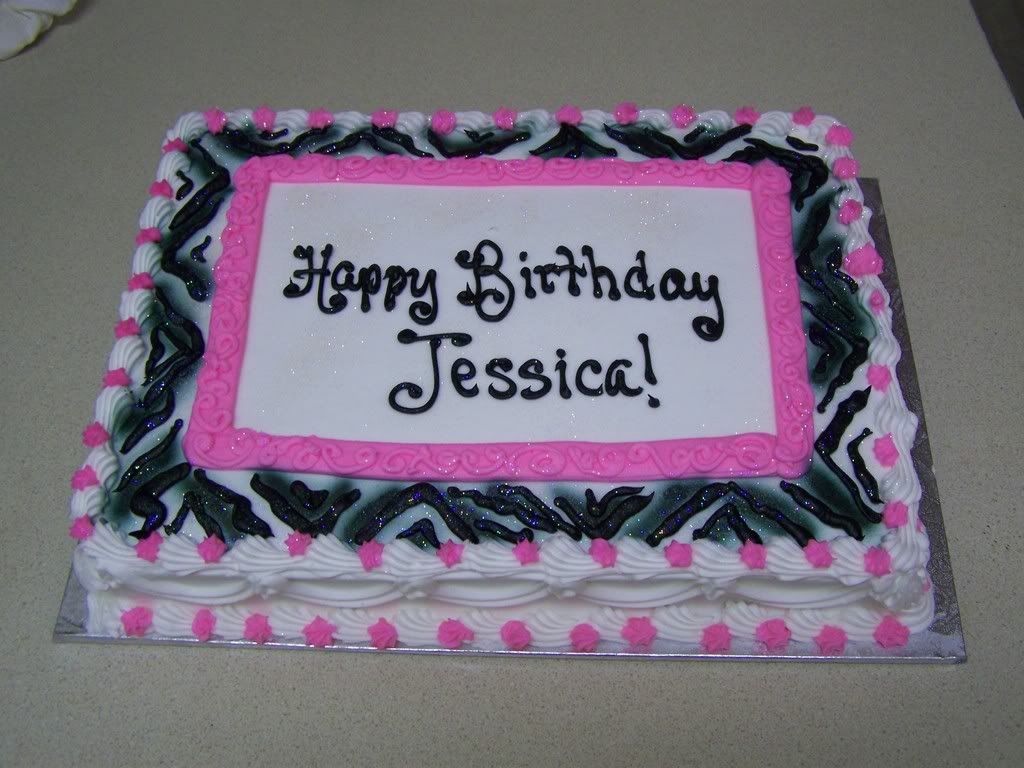 Then he gave me a $200 spa package to use whenever I want! And he also got me a new PC game I've been wanting, Dungeon Siege 2, and he even tried to buy a cricut cartridge for me but couldn't find the right one. Which means I'll be getting the one I want soon, Home Accents!

Then on Sunday, I had to wake up early so I could make it to the first graduation party @ 12:30pm. The party turned out really nice in the church room. Angel was nothing but smiles the whole time and I'm happy to report that she loved the album!

Then on to the next party! This one was for two cousins ( one boy, one girl). Two different schools too! This party was old fashioned in the backyard with BBQ, beer, and bugs! And it was around 90 degrees as well! When hubby and I first arrived. All my aunts sang me "Happy Birthday", it was so sweet and I couldn't take the smile off my face. Miranda absolutely loved her album too. She even made it a point to come and thank me again before she left with her friends. I thought it was the sweetest gesture.

Then we were going to drop my dad off from the grad party, but upon arriving at his house we found out one of his dogs was missing!! So hubby and dad's roommate jump in the car and go looking for her. After 30 mins of no signs, while me and dad are having a heart to heart moment when he gave me my birthday card with $100 in it (had to go to the bathroom and cry and ended up praying for the dog instead). A few minutes later the guys come back without the dog. I decided to send them to the store for some drinks and in the meantime me and dad are talking about the last time this happened she had went towards the park. So I call hubby and tell him to check the park, well he drives down and no dog at the park. On the way back to dad's everyone is thinking she is gone for good, she walks right in front of the car!!! So they grab her and bring her home!! The only thing I can say is there is power in prayer! Because I don't know what my dad would have done without that dog!

So we were finally on our way to Red Lobster. We had a great dinner just the two of us. I found out I do not like my seafood grilled! And their Passions Sunset Colada is a great frozen drink!
Like I said a birthday fit for a Princess, and man do I feel like one!!