Sorry it's been a while since I've blogged but I'm back now. Christmas was happy & jolly, I got tons of new scrappy toys to play with and a few gift cards that I've already spent on more scrappy stuff! So I am ready to play again. It feels like I haven't scrapped in months even though it's only been a few weeks!
Here are a few of the new scrappy toys I got from hubby:

Paper Storage Cart/Cubes
he said "I was a REALLY good girl this year." And he expects me to use these toys and make some super great projects! Gotta love a supportive husband!
Oh Yeah, I almost forgot! Here are the pictures of our Snowman. We built this little guy the night it snowed back in December, I don't remember which day it was but I do know it was a really long time since it had last snowed in Houston! And of course, since we are in Houston, Go Astros! (Isn't that little hat the cutest, they serve icecream in them at the baseball stadium. BTW, we made him on our third floor balcony with the snow that had accumalated. I think he measured 16" tall! The tall pile beside him is supposed to be a Christmas Tree! LOL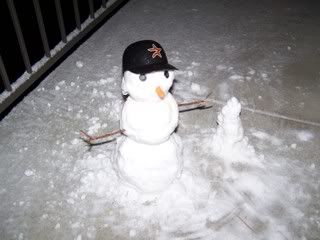 For New Years we stayed home and sat on our balcony for a great fireworks show across the lake. We made it way past midnight! We had a few shots throughout the night and watched a movie and just enjoyed each other's company. Here's a short video of the firworks:
I think I pretty much caught you up I don't want to make this post any longer so I'll start another one to show & tell you about the News Years Crop! And get ready for the sketches to start back up!